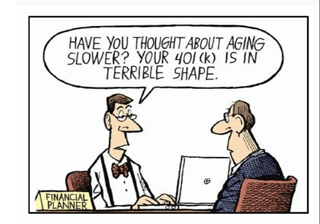 May 15th marked the 6th Annual Employer Retirement Plan Symposium, presented by AFS 401(k) Retirement Services. We love hosting this event every year, particularly since it allows us to spend time with our clients outside of the normal plan review and employee education meetings. We truly value the opportunity to share important information with benefits professionals – information they can use to establish a more valuable benefits program for their employees. And it's not just the attendees who are learning new things at our symposium; we are too. We recognize how important the regular exchange of information is in our ever-changing industry, and we welcome the opportunity for others, and ourselves, to participate as well, especially since it helps us to stay on the pulse with the latest retirement developments.
Topics surrounding healthy living seem to be increasingly popular. Organic vs. Non-organic? Gluten vs. gluten-free? Crossfit vs. running a marathon? Everyone seems to be concerned with how to make the physical aspects of their lives better, but as retirement plan advisors, we, of course, had to ask, "What about your 401(k)?". In order to live a full and healthy life, you also need a full and healthy retirement savings plan. So we posed the question to all of those at our Symposium - how fit is your 401(k)? In other words, how does this part of your employee benefits program measure up? What areas could you improve upon? Where are you succeeding? Most importantly, how are you helping to fulfill your employees' savings goals and ensure they have a healthy retirement?
Our line-up of presenters this year was top-notch, covering topics on everything from hot button compliance issues, the in's and out's of target-date funds and to the psychology behind an employees' saving habits. To close the Symposium, attendees got something a little out of the ordinary: a free meditation session courtesy of 2014 CNN Hero and founder of A Wider Circle, Mark Bergel. While a little out of the box as far as presentations for employee benefits professionals go, it tied nicely back to our idea that financial stability and healthy savings are just as important as one's physical and mental wellness.
Here's a brief snapshot of what our presentation at this year's Symposium offered. For a more in-depth picture, check back to download our upcoming report, Retirement Plan Prescriptions: Tools to Keep Your Plan Fit.
It's Human Nature: Overcoming Roadblocks to a Secure Financial Future (Jennifer Putney, Prudential Retirement) - This presentation addressed the "why" behind lagging retirement savings among the general public. Using behavioral finance as the foundation, Jennifer Putney explore the Big Five Human Challenges that inhibit our ability to save for the future: longevity disconnect, procrastination, optimism bias and overreaction and impulse control.
How Your Retirement Plan & Health Plan Align (Garrett Carlough, MassMutual) and Defining Your Corporate Wellness (Travis Tuner, Corporate Synergies Group) - Of course, given our theme, we had to address how health benefits play a role in the bigger picture. These presentations focused on the repercussions rising health care costs and an aging workforce can have on the employer and how saving more into a retirement plan can help counteract this. Travis also discussed the positive outcomes integrating a wellness program into employee benefits can have in the long-run.
Qualified Default Investment Alternatives: Is it time to revisit your policies? (Kevin Murphy, Franklin Templeton) and How Well Do You Know Your Target-Date Investments? (Alex Assaley & Alp Atabek, AFS 401(k) - TDFs or target-date funds are a hot topic right now in the retirement world. Both Kevin and Alex addressed the viability of having these options in your investment line-up and the best practices associated with these funds.
Plan Compliance & Fiduciary Oversight Panel (Panelists: David Levine, Groom Law Group, Scott Hallberg, Calibre CPA Group, John Carl, Columbia Learning Center) - This panel discussion format was a first for our Symposium and it was a great way for plan sponsors and fiduciaries to pose questions to experts in the field and get real answers.
Managing Life, Work & Stress (Mark Bergel, A Wider Circle) - AFS was proud to have Mark as a speaker not only because he is an extremely accomplished individual, but because he's also a wonderful public speaker. Mark talked about how important stress management and mindfulness can be to your overall everyday life and productivity. He even taught us some breathing exercises and led a short meditation to end our day.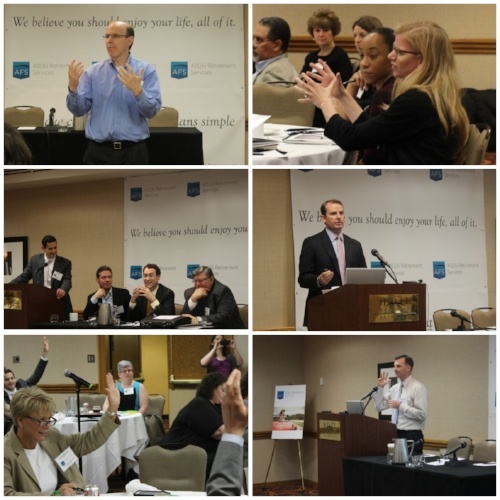 We thank all of our presenters, sponsors and attendees for making this year's Symposium so successful!