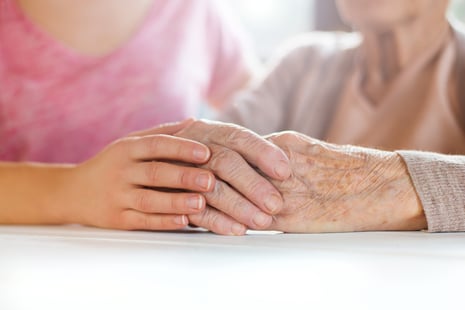 As a growing number of Americans begin to provide caregiving assistance to aging parents and family members, the need for caregiver support is quickly rising. In fact, 34.2 million Americans have provided unpaid care to an adult age 50 or older in the last 12 months and, at 60%, the majority of caregivers are female. Although becoming a caregiver for a loved one is not something you can necessarily predict or anticipate, it is something you can take small steps to prepare for financially.

Caregiving hits close to home for me, as my grandmother is a caregiver for my grandfather who was diagnosed with Alzheimer's about three years ago. Every caregiver faces different obstacles, and in my grandmother's case, financial and emotional challenges have been her biggest hurdles. Accepting that someone you love can no longer take care of himself or herself in a mental or physical capacity can be difficult to admit. Below, we'll work through some options you have when you become a caregiver and what you can do to prepare for future needs.
In most caregiving situations, if people take precautions to prepare ahead of time, they find themselves much better off in the long run. Simply having a conversation with your kids and partner to decide what actions to take if and when a caregiver is needed will go a long way. Will the kids step in to help? Will you move to an assisted living facility? Has enough money been saved? These are just a few questions to consider when the time comes to have such a conversation with your loved ones.
Every family's situation is unique and therefore everyone's best solutions and outcomes will be different. Long-term care insurance can be a saving grace if and when a loved one is diagnosed with a chronic disability or illness; however, it does not come cheap. If you don't obtain insurance before the diagnoses, then you unfortunately will be unable to attain it after the diagnosis. Certain long-term care policies will even pay family members for being a caregiver. Consult your financial advisor or insurance professional for the potential policy conditions and benefits available to you.
For my family, my grandfather was diagnosed at an early age and his condition was unexpected; we did not get long-term care insurance in time. Fortunately, my grandparent's live 15 minutes away from my family, and my mom, aunt, and uncle have been able to help her and provide her with the support system she needs.
What's Next?
So, how can you prepare yourself and your loved ones for the unpredictable future? While it can be a complicated system to navigate, Medicaid can be an invaluable asset for those in need of assistance; however, qualifying is another challenge. Medicaid is a federally funded program that provides health coverage or nursing home coverage to certain low-asset individuals, people with disabilities, and the elderly in need of nursing home care. All 50 states offer some kind of Medicaid program and the eligibility, benefits, and rules differ from state to state. For example, a few programs pay family caregivers but exclude spouses and legal guardians, while some programs pay care providers only if they do not live in the same house as the individual receiving care. To qualify for Medicaid, the recipient cannot exceed the program's annual income and countable assets. For example, as of 2018 to qualify in Maryland, single residents must have less than $2,500 in accountable assets; however, individuals married may have more and still qualify. To learn more about the Medicaid regulations in your state visit American Council on Aging.
Like Medicaid, Medicare is also a government program that provides health insurance for individuals over the age of 65, but it does not cover long-term care expenses. For instance, once an individual is diagnosed with a disease that is not expected to improve, Medicare will cover a maximum of 100 days and then rescind financial support.
For anyone in such a situation, don't wait to gain power of attorney. It is an imperative step in being prepared. Once the necessary legal documents are in place, the power of attorney has the authority to handle the disabled individual's personal business and to make decisions on his or her behalf. A few years ago, my grandmother went through the process of gaining power of attorney after her mother-in-law passed away, as my grandfather was no longer able to make sound legal decisions. Most states offer forms to help you create a power of attorney, and generally, the document must be signed, witnessed and notarized.
Do you work in a company that offers care giving benefits?
The Families and Work Institute's 2016 National Study of Employers found that 42% of employers offer elder care resources and referral services, while 78% provide some amount of either paid or unpaid time off for employees who need to care for aging relatives. However, these figures have remained essentially unchanged since the study was conducted in 2012. As employers start to take note of the growing caregiver population, we anticipate these employee benefit programs to adjust accordingly.
For instance, in 2013, Emory University launched the "Emory Caregiver Support Program" that offers a senior care management service with a 24/7 call center staffed by senior care specialists. The Federal National Mortgage Association (aka Fannie Mae) also has a caregiving program built within its employee benefits package. The government-backed home mortgage lender first instituted an elder care support program in 1999. This program has licensed clinical social workers who offer confidential consulting services, including referrals and crisis support counseling, to all employees in need of such guidance and assistance. Inquire if your organization offers any caregiver benefits and if not encourage your employers to explore possible programs with your benefits package.
To wrap things up
Looking beyond just the financial support, emotionally taking on the responsibility of being a caregiver can be overwhelming. This is where the power of support groups can come into play. Not only does a support group provide you with the space to share your thoughts, feelings, and questions with others in a similar situation, but it also offers you the chance to spend time in the comfort of others who understand what you are going through. AARP has compiled a list of groups and agencies that offer caregivers a variety of resources.
Becoming a caregiver is a huge move that will impact your life in many ways. If you have any questions, please feel free to reach out to our team. We also encourage you to read additional resources on MoneyNav to learn more about how you can empower yourself to feel more confident in your financial future.