Employee Education & Financial Wellness
Financial Wellness is certainly one of those buzzwords that, if you spend time in Human Resources and Benefits, you have been hearing a lot. Today, many Americans are struggling with their day-to-day finances: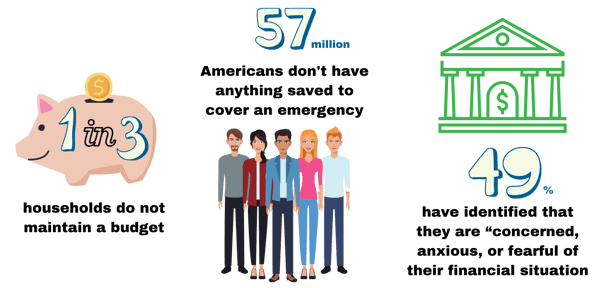 Now more than ever, employees are turning to their employers to provide reliable, trustworthy guidance when it comes to their financial picture. At AFS, we believe Financial Wellness is one of the most significant ways we can have a meaningful impact on employees' lives and financial well-being. Unfortunately, this view is not shared by all advisors in the industry, with many opting to defer these services to plan vendors or third parties.
Our team has worked diligently to develop a proprietary educational program that is designed and curated by qualified, independent advisors acting in a fiduciary capacity – our mission is to educate, guide, and support the working American; not to sell products or services to your employees.
Ultimately, we want to help your employees develop their financial "know-how", understand the full benefit of their employer sponsored retirement plan, and develop a strategy for making wise financial decisions for today, tomorrow, and their long-term future.
The AFS 401(k) Financial Wellness Experience:
Education Program & Delivery
We engage with employees through a variety of mediums in order to ensure we are addressing their personal learning styles and preferences:
In-Person & Web-Based Group Workshops: One of the most prevalent methods for educating employees is through our in-person and web-based group workshops. We take pride in our interactive presentations, each built and designed in-house to guarantee the most relevant and reliable information is communicated during each session. This also provides our team the capability to adjust and customize our group sessions to meet the individual needs of each client. Our diverse group sessions and topics cover the span of a full financial plan, from building a budget to strategies for claiming Social Security.
Individual Financial Coaching: We understand that for the majority of the population, hiring a personal Financial Planner is unrealistic. However, the need for individualized guidance and support is still there. Our team of dedicated Financial Consultants are available to meet with your employees one-on-one to review their personal situation and provide guidance and advice to help them take meaningful steps towards financial freedom. Whether in person or over the phone, our team is happy to help.
MoneyNav - The Guide to Your Financial Life: In addition to our in-person group presentations and individual financial coaching services, our education program is supplemented by our Financial Wellness Platform,

MoneyNav

. This proprietary website provides advisor-backed resources and tools for employees to access at their leisure.
We continually engage with the MoneyNav Community, providing them with calculators, worksheets, informational videos and infographics to help address all aspects of their financial life, beyond just retirement.
In 2020, we launched our MyMoneyNav dashboard which allows our clients' employees to create their own unique account on the platform. By answering a brief financial wellness questionnaire, users receive immediate customized guidance and advice to help them take action to improve the top areas in their financial life. This video provides a summary of all the features our new platform provides.