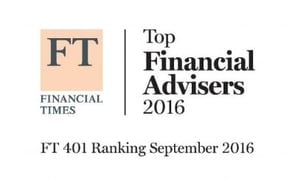 On September 15, 2016, the Financial Times released their second edition of the Financial Times 401 Top Retirement Advisors list.
We are honored to announce that AFS 401(k) Retirement Services Managing Principal and Lead Retirement Advisor, Alexander Assaley, is included on this list alongside the country's top retirement plan advisors.
From the Financial Times:
This special report names the 401 most elite DC plan advisors in the U.S. The 'average' advisor on the list has 18 years of experience advising DC plans and manages $950 million in DC plan assets. These top advisors hail from 41 states and Washington, D.C.

This special report not only highlights these leading advisors and explains the proprietary methodology behind the ranking, but it also includes:

What's threatening demand for actively managed funds

Why employers expect more lawsuits

Profiles of a couple of FT 401 advisors

And more

Our research partner, Broadridge Financial Solutions, provided unique data from its proprietary database to help identify advisors specializing in DC plans. The FT then worked with Ignites Research to collect additional information on these advisors and ranked them to select the FT 401.
To access the full report and list, click here.
The Financial Times 401 Top Retirement Plan Advisors is an independent listing produced annually by the Financial Times. The FT 401 is based on data gathered from advisors, regulatory disclosures, and the FT's research. The listing reflects each advisor's status in seven primary areas: DC plan assets under management (AUM), DC AUM growth rate, specialization in DC plans, years of experience, advanced industry credentials, compliance record and DC plan participation rate. In 2016 there were 540 qualified applicants nominated, of which 401 were recognized (74% of candidates). This honor is not indicative of the advisor's future performance. Your experience may vary. Neither the advisors nor their parent firms pay a fee to the Financial Times in exchange for inclusion in the FT 401. For the full methodology, please visit FT.com.