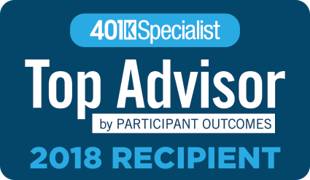 Bethesda, MD (April 10, 2018)—AFS 401(k) Retirement Services, a Retirement Plan Consulting Firm in Bethesda, MD, is pleased to announce that Managing Principal and Lead Advisor, Alex Assaley, has been named one of 401(k) Specialist Top Advisor by Participant Outcomes for February 2018.
Top Advisors by Participant Outcomes (TAPO) is the recognition and celebration of successful participant outcomes and the advisors who make them possible. Each month, within their online and print publications, 401(k) Specialist highlights a plan specialist that "is doing it right", as well as employing specific and measurable methods to monitor their success.
Upon receiving news that Assaley has been recognized, Client Service & Marketing Associate, Revé Van Croft said, "It's great to work with an individual such as Alex, who cares so deeply about the financial welfare of American workers. It inspires the entire AFS 401(k) team to create the best materials, literature, and programs that will continue to educate and motivate employees to take control of their financial future and make strides towards economic success."
About AFS 401(k) Retirement Services
AFS 401(k) Retirement Services is an independent retirement plan advisory firm located in Bethesda, MD. The firm prides itself on delivering full-scope and customized consulting services to meet the needs of small- and mid-sized organizations and corporations. For more information, please visit www.afs401k.com.
About Commonwealth Financial Network
Founded in 1979, Commonwealth Financial Network, member FINRA/SIPC, is the nation's largest privately held Registered Investment Adviser–independent broker/dealer, with headquarters in Waltham, Massachusetts, and San Diego, California. The firm supports 1,710 independent financial advisors nationwide. For more information, please visit www.commonwealth.com.
###