D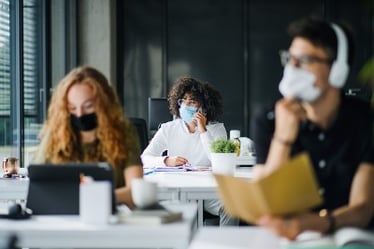 eveloping a plan to re-active your workspace will be challenging and complex. You must determine which workers need to come back first, develop a phase-in period for welcoming them back, and adjust your workspaces to adequately reflect and implement social distancing guidelines, and overall and most importantly, provide a safe and healthy environment for your employees to work in.
As you begin to initiate plans to return to the workplace in the coming months, there are a number of questions your organization needs to consider to be ready and prepared to reopen. It is extremely important that you are welcoming your employees back into a safe environment, and preparedness, agility, and resilience will be key. For this article, we connected with a few members of the JLL team, a world-leading commercial real-estate services company, to discuss the most important items you should keep in mind as your company or organization begins to navigate this re-entry period and to educate you on how to equip your workplace and prepare your employees for the new normal in this COVID-19 world.
To help companies and organizations around the globe successfully return to a safe workplace environment, the JLL team has created the following top ten key focus areas to address when piloting your workspace re-entry.
Local Government Regulations
Ensure you and your management teams are aware of the guidelines from your local government as your area begins to reopen. Many local governments have shared and will continue to share specific protocols to follow in terms of reopening office buildings to employees and workers. Make sure you determine if you need to obtain a new certificate of occupancy from your regulatory authorities.
Landlord Policies
Check with your landlord and building manager to learn the new procedures and rules for your building's re-entry and occupation. Review and confirm the new policies regarding building cleanliness and safety and determine how your company will ensure these are appropriately implemented in your workspace.
Business Continuity Plan (BCP) Alignment
Spend time reviewing and updating your business continuity plan (BCP) as needed. Verify that your BCP includes a list of the essential roles and specific individuals to be included in each phase of your re-entry. Review your contingency plans and critical response protocols to confirm that these are in place in the event that your reopening faces unforeseen issues or that the pandemic heightens and causes a return to full workplace closures.
Sourcing Protective Equipment
Identify the supply chains and resources you can leverage for personal protection equipment for your employees. Depending on the nature of your company's work, this equipment can range from appropriate masks and face shields and disposable gloves to disposable utensils, tools, and medical gowns. Make sure your organization determines advance-ordering requirements in the case of long lead times for essential items.
Human Resource (HR) and Legal Considerations
Establish protocols for ensuring employees with medical conditions that put them at higher risk for contracting the virus do not return to the office during your initial return phases. These individuals should be the last ones to re-enter your workplace, and you should not broach the idea of having them re-enter until there is data supporting it is safe to do so. Ensure a process exists to report and track infections and allow employees to express concerns in compliance with the Health Insurance Portability and Accountability Act (HIPAA) regulations.
Space and Occupancy
Develop seating and floor plans that meet the social distancing guidelines provided by your local government. Establish new workplace etiquette and protocols and thoroughly communicate these to your employees via email and signage around your workspace, and be sure any changes observe and comply with the Americans with Disabilities Act (ADA). Determine a policy for employees' access to spaces other than their primary work areas and plan how to address specialty areas like locker rooms, mailrooms, breakrooms, and mothers' rooms.
Facilities Management
Confirm your emergency evacuation procedures are in compliance with social distancing requirements, and elect an employee to be in charge of each area of your workplace in the case of an evacuation. If you operate in a multi-story building, connect with your building manager to implement social distancing guidelines and occupancy protocols for elevator usage. Additionally, make sure to create "quick-close" procedures in the event your office must re-shut down quickly if the virus resurges.
Technology
Create methods for tracking and keeping tabs on occupancy in the various workspaces throughout your offices and buildings. Implement room reservation protocols, and provide disinfecting equipment at the entrances of every room and shared spaces.
Security
Determine entry and exit protocols for employees returning to your workplace, including when employees enter and exit different buildings, if applicable. Establish building shutdown policies in the event your office space needs to be closed again.
Approvals
Decide who in your company is responsible for announcing office openings and closures and ensuring all details of such are adequately communicated to all employees. Establish who needs to approve the re-opening plans and procedures, and make sure to involve and leverage your crisis management team, local government, risk management team, IT department, building security, legal leadership, and HR team.
Final Points
Overall, observing and taking action around these ten areas will help you take a holistic, thorough, and safe approach to reopening your workspace. JLL advises using these ten key focus areas as a checklist to ensure you are addressing all the areas that need adequate attention throughout your organization's re-entry process. Remember that although you and your company may be anxious to get your employees and team members back into the workplace, this process warrants complexity and should be cautiously crafted to ensure everyone's health and utmost safety.
The JLL team has created additional resources to help organizations create and implement a new-normal and safe workplace environment. Check out these resources below.
Download the Re-Entry Capabilities Infographic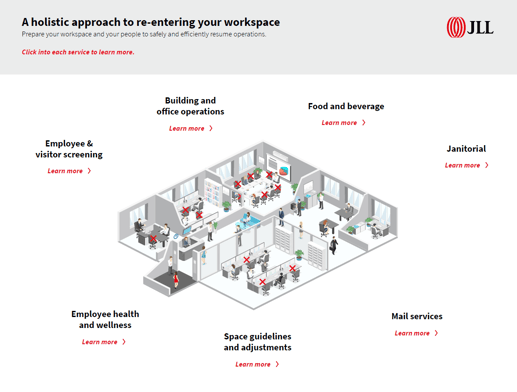 Download the Re-Entry Guide for Working in the Next Normal