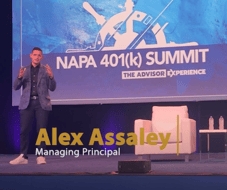 At this year's NAPA 401(k) Summit, the nation's largest and most prestigious conference for retirement plan advisors and industry leaders, our Managing Principal, Alex Assaley took to the stage to give his final Presidential remarks and share a special story of one of his proudest moments as a retirement plan advisor. You can watch the live presentation below or read through the video transcript.
Alex, as the 2021-2022 President of NAPA.
Video Transcript:
Well, good afternoon. It's great to see you all. Thank you so much for being here. I know it was challenging for a number of people to get here. Last night or this morning, I'm going to tell you a story, a true story. It happened in the summer of 2012. I was in one of these old brick buildings built 60 or 70 years ago for government contractors that had those, exposed radiators in every room, linoleum floor, peeling drop ceilings, harsh lighting. You know, the reason everybody wants to get back to the office and, in this day, I was doing one-on-one financial coaching sessions, something that I've done since I became a retirement advisor in 2006. I started at 9:00 AM and had back-to-back to back meetings all day, probably 15 meetings.
So, after the full day of meetings, I'm walking out of the conference room. I look up at the signup sheet and there's one person left. My last meeting that day was with Ronnie. She was the office receptionist, so I go to the front lobby and ask if she's ready to meet with a very shy yes, we walked back to the conference room, and I start into a conversation that I've now probably said tens of thousands of times. We're going to help you understand how your retirement plan works for you, make sure you're saving enough to get the full match, build a mix of investments that aligns with your financial goals, and deliver guidance to help you with the foundational pieces of financial security, but of course, this conversation is about you. So, is there anything else that you would like to discuss? In a very timid and shy voice, she says, yes, I actually, wasn't going to meet with you, but since you're here, I wanted to let you know, and she pauses. I just found out that I'm being let go. I want to know, what do I need to do with my 401(k)? We have a very gentle discussion and I stress to her that there's nothing she needs to do with their 401(k). When we talk about hardships and loans and distributions and just maintaining the 401(k) there, but that wasn't really what was on Ronnie's mind. She was worried about her future. She was worried about taking care of her two kids as a single mother, potentially out of work and so I see her, and her eyes start to tear up.
I can tell she's upset and embarrassed, and she says, my last day is at the end of the month. Now at the time, I'm only six years into the industry. I will tell you that I've learned and aged a lot since. But I, as Corey mentioned, probably looked like I'm 18. So, I take what I feel like is a little bit of a risk and I say, well, what type of positions are you looking for? She'd been at this organization for about four years. She'd done a good job, but they were downsizing, and with only 25 days until she was leaving, she hadn't found many opportunities. So, I tell her that we have other client relationships in the same or similar industries and if she provides me with a resume, I'll send it out to every person that I know and the next morning she sent me that resume and the same day I sent it out to six or seven other clients and try to make a connection. This exercise took me all, but 30 minutes and the great part is that all that, all those clients, they were thrilled.
Even the ones that weren't hiring, felt like I was looking out for them when I was the one asking for a favor. Now, I know that as you listen to this, you probably think to yourself, there's nothing special about this story. I agree, the part that is special for me came a few weeks later. I'm sitting in my office one morning and I get a phone call.
I pick it up and it's Ronnie and she's so excited that she's talking fast. I can't even understand what she's saying, but after a few seconds, she slows down and she shares the wonderful news that she has a new job, and she's going to be starting at this company, one of our other clients, in about a week, and the best part is that she's going to be finishing up her current job on a Friday and the next Monday starting the new one. And so, she has not lost a paycheck or a single day of pay, and she said, my kids are going to be okay and Alex, it's all because of you. Now, we know that's not really the case, but I hang up the phone in pure joy. My smile is as big as my ears, which my wife reminds me are very large. And this simple act made my day, my week, my entire year, I call this story a proudest moment. What's beautiful is that this is just one example of the difference we make. In our firm, we have hundreds, maybe thousands of these stories, and in this room with more than 2000 of the industry's top advisors and leaders, there are hundreds and thousands of these stories and millions of lives that we were improving and enhancing every single week, month, and year over year. More and more of America's workforce are looking for help, guidance, and advice to address the biggest challenges and financial priorities that they have.
These can be specific needs, like how to build an investment mix that allows them to have enough money accumulated for their retirement goals or how to help manage their day-to-day spending and budgeting, or it could be something tangential, like putting them in a position for the next step in their career. And whether you're an advisor, a record keeper, or an investment firm salesperson, we are all in the business of making an impact and making a difference. That is the DNA of our industry. So it's been a true honor having the opportunity to serve as NAPA's president because NAPA is the voice and the engine and helping to advocate for and shape how we make this difference.
Brian Graff, Victoria Backer, Nevin Adams, Matt Scanlon, and the entire team at NAPA, along with ARA, the sister organizations, and all of the volunteers on the leadership council, the government affairs committee, and countless others are working on a daily basis to help strengthen and enhance the private retirement system.
So, whether this is your first NAPA Summit, or if you're a top woman advisor or a NAPA ACE, ascending in your career every single year, or if you're one of the industry veterans, that's been coming to this convention for 20 plus years and you've helped shape and build our industry for someone like me.
What's great about our ecosystem and this association is the comradery, the collaboration, and the mentorship that we all use in working towards improving financial security for America's workforce. I have been incredibly fortunate to have numerous mentors, champions, and teachers who shepherd me in the right direction and put me on the path to success.
In fact, my commitment to NAPA and a lot of my humbly put success. Came from a few wholesalers that invested in me early in my career and in 2007/ 2008 said, you've got to go to the ASPCA 401(k) Sales Summit and since that event, I have remained involved and engaged in NAPA, in the retirement policy work that we do and in building relationships with many of you. My peers, my mentors, my competitors, these relationships have provided me with ideas, with drive, and with the confidence that my team at AFS and my family have believed in and bought in, that allow us to do more and to better serve our clients every single day.
So, I'm incredibly grateful for all that you do, that all of you have done. And so, whether you're an advisor, a TPA, you sell investment products, if you provide a platform, maybe a technology solution, or even if you're an attorney. I guess, my hope is that we can be aligned, that you can be with me on a mission to make an impact, make a difference and help more people than ever before improve their financial know-how and get on track for today, tomorrow, and their long-term financial future.