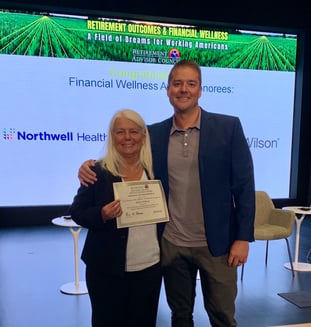 On August 16, 2022, the Retirement Advisor Council recognized Wiley|Wilson, as an honoree of its Financial Wellness Excellence Awards. This recognition was presented at the Retirement Advisor Council's 2022 Annual Planning Meeting in Des Moines, IA. Connie Burnette of Wiley|Wilson accepted the award on behalf of her team and was recognized for her thoughtful leadership and dedication to providing the best possible employee financial wellness program to her organization.
The AFS 401(k) Retirement Services team has worked alongside Connie and her Retirement Committee at Wiley|Wilson for over 11 years to create and deliver their award-winning, customized financial wellness and 1:1 advice program for the employee-owners of Wiley|Wilson.
Eric Henon, executive director of the Retirement Advisor Council (RAC) shared his reflection after selecting the winners and said "I come to realize they don't get there unless senior management in the organization, the advisor, the recordkeeper, and the financial wellness organization all invest substantial time and energy, collaborate, and all pull in the same direction. If one or the other is doing the job half-heartedly, the nomination won't rise to the top."
Wiley|Wilson's retirement team includes recordkeeper, John Hancock, and our firm, AFS 401(k) Retirement Services as their fiduciary advisor. The RAC indicated a few of the factors that led this team to success, such as the organization's 90%+ participation rate, top-notch approach to financial wellness, and in-depth financial wellness offerings to employees.
Through the MoneyNav financial wellness program that Wiley|Wilson uses, employees are given help way beyond retirement. The financial wellness program offers support with emergency savings, how to build a budget, student loan debt, tips on purchasing a home, and how to handle many other financial struggles.
Launched in 2016, MoneyNav was created with a single mission in mind: To provide everyone with access to reliable, valuable, and down-to-Earth financial education so they can plan for today, tomorrow, and their long-term future.
The Retirement Advisor Council advocates for successful qualified plan and participant retirement outcomes through the collaborative efforts of experienced, qualified retirement plan advisors, investment firms and asset managers, and defined contribution plan service providers. More award criteria can be found here.
About AFS 401(k) Retirement Services, LLC
AFS 401(k) Retirement Services is an independent retirement plan advisory firm located in Bethesda, MD, specializing in fiduciary advice, guidance, and counsel to corporation, organizations, and their retirement plans, as well as financial advice to working Americans through these employer-based retirement benefits.
About Wiley|Wilson
Wiley|Wilson is a full-service architecture and engineering firm, specializing in creating innovative and functional design solutions for our government, institutional, and private-sector clients around the world. As a 100-percent employee-owned company, its 180+ employees share a stake in their success through an Employee Stock Ownership Plan (ESOP). The ownership model, coupled with their focus on service and engagement, creates a distinct company culture.
Pictured above is Connie Burnette, PHR, SHRM-CP, Vice President, and Human Resources Department Manager of Wiley|Wilson, alongside AFS' Sr. Consultant, Jim Keenehan. This award is not indicative of an advisor's future performance. Your experience may vary.