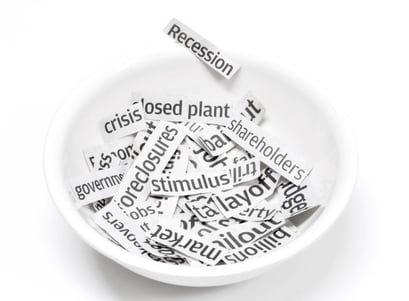 Last week the Wall Street Journal published an article titled, Downside of Automatic 401(k) Savings: More Debt; and while it follows this emerging journalistic trend of shocking and salacious news, it makes me wonder – are headlines like this destroying the way Americans think about saving for retirement (among other things)?
In the two seconds it takes someone to read the headline, your first thought would be "automatic 401(k) savings is bad" which is way off the mark. Certainly, automatic savings is no magic bullet, but it's been a huge success, particularly in lower-income households.
The findings that sparked the piece are from a 2017 study performed by five academic economists. Their discoveries point out that employees automatically enrolled in 401(k)s have (albeit modestly) more debt. Most importantly though, the participants in this study didn't increase their credit cards or personal debt, and instead had increased auto loans and mortgage debt.
The research looked at a group of 32,073 civilian employees hired in the U.S. Army in the 12 months prior to Aug. 1, 2010, compared to 26,803 civilians hired in the year following, when the government adopted automatic enrollment policies into their Thrift Savings Plan (TSP). In the study, they adjusted for education and salary levels, but it doesn't seem that their research attuned for key factors like age, stage of life, and economic environment. What I find most interesting is how quickly these regarded economists fell into assigning "causation" for their results – and not spending more time thinking if the results were simply coincidental correlation.
Of course, this isn't the first time (nor will it be the last) a major media publication like the Wall Street Journal will take a small snippet from an academic study for the purposes of an eye grabbing headline, withholding the bigger picture. Unlike the title of the actual report, Borrowing to Save? The Impact of Automatic Enrollment on Debt, which seems to point automatic enrollment as a "problem" in America's retirement security the study – the report finds that those employees who were automatically enrolled into the TSP had significantly more retirement savings in a short period of time, while the only debt they measurably increased was long-term low interest rate debt, like auto loans and mortgages. Further, their average long-term debt load was higher by only $1,000 or so compared to their non-automatically-enrolled counterparts.
We have a retirement savings crisis in this country. Many American workers are underfunded and behind track for their retirement needs. If automatic enrollment is helping them save more (and it is, by the way), taking on marginally increased amounts of auto or mortgage debt to get on track for retirement is still a big positive for the retirement security of our country. That said, we disagree with the insinuation from the academic study and the Wall Street Journal, that automatic enrollment is a downside for employees' financial pictures. Conversely, we believe automatic enrollment is a key building block to a successful retirement plan, and as the research indicates, helps many more employees become better off for their retirement needs, and we aren't alone. Data from Vanguard (from more than 400 retirement plans and 1MM participants) found that participation rates for plans with voluntary enrollment were 65%, compared to those with automatic enrollment which averaged above 80% participation.
With more than 10 years of experience working with companies and organizations, and directly with their employees, my team has the hands-on experience and evidence of the real drivers in retirement plan success. In particular, we used data from more than 10,000 one-on-one sessions with employees to reflect upon retirement plan program structures and provisions, and the positive effect they have on employees in our research paper, Beyond Retirement: An Examination of Financial Wellness for Employers.
Finally, automatic enrollment is not a panacea to being retirement ready, but it goes a long way in providing the first step to help people in their long-term savings. For ultimate success, an employer-sponsored retirement program needs features like automatic enrollment combined with "automatic increase" and other effective plan design features, as well as engaging financial wellness and holistic financial coaching. This comprehensive approach to retirement and financial benefits will help structure and motivate people to make wise financial decisions for today, tomorrow, and their long-term future.
Alex is the Managing Principal at AFS 401(k) Retirement Services, a retirement consulting firm. He is a recognized thought leader within the retirement and employee benefits marketplace, focusing on creating forward-thinking and innovative programs for companies and their employees.