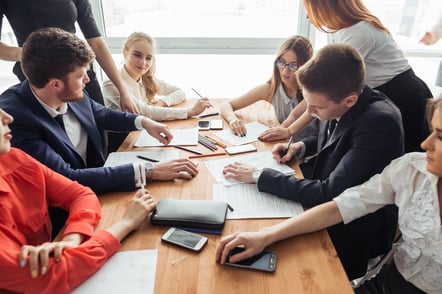 Many millennials are looking for their company's employee benefits program to go beyond the typical healthcare and retirement plan by also addressing other key priorities, such as student loan assistance, financial education, and flexible schedules. While news headlines sometimes turned their demands into stories of "entitled" or "needy" millennials, at the core, their goals are similar to past generations - they want help to take actionable steps towards achieving a healthier lifestyle - mentally, physically, and financially.
Flexible Atmosphere:
Whether its flexible work hours or office locations, new generations don't like to be tied down to the strict 9-5 or cubicle life on the daily. Over 84% of millennials reported some degree of flexible working conditions in their organizations. This kind of benefit could mean bendable working hours, adjustable roles, and flexible locations. With that said, millennials tend to be quite accountable for their work. Their natural inclination towards technology has allowed this generation to be accessible and active in working at nearly "all hours". Their view is – getting work completed is the priority, whether it's at home or late night, more so than being in the office during regular hours.
Student Loan Payment Programs:
One of the biggest financial struggles of the millennial generation is student loan debt. In 2017, the average student loan debt was $37,172 and with prices of universities continuing to grow the amount of debt will impact those just leaving school. For the 20 something-year-old, it has become very normal to move back in with their parents to save money. The kind of debts they face are not ones they can necessarily pay down fast, but if you're able to provide support like Student Loan Hero or Student Loan Genius, this can be a huge incentive for younger workers to not only join your team, but stay on it as well. For smaller organizations, offering student loan programs may not be an option. However, guidance for someone may be just as effective. Encourage employees that are struggling with loans to look at their options; that may mean refinancing to lower interest rates or applying a debt repayment system.
Financial Stability:
Many organizations have turned to their retirement advisors to help provide trusted support and guidance for their employees, helping them to learn how to juggle daily expenses and debt repayments, while also saving for their goals and long-term future.
Mixing Up Employee Perks:
As unique benefits become more popular, Glassdoor recently discovered that 57% of people said benefits and perks are among their top considerations before accepting a job, and four in five workers say they would prefer new benefits over a pay raise. Companies like Airbnb, REI, Salesforce, and Asana are leading the way in creative benefits:
Airbnb, awards its employees an annual stipend of $2,000 to travel and stay in an Airbnb listing anywhere in the world.
REI, encourages its employees to get outside by offering two paid days off a year to appreciate their favorite outside activity.
Salesforce, employees get six days of paid volunteer time off a year, as well as $1,000 a year to donate to a charity of their choice.
Asana, employees have access to executive and life-coaching services outside of the company.
Regardless, of the industry, every company wants to achieve their greatest self and that starts with recruiting the best employees. As the baby boomers begin to retire and millennials become the majority workforce, it would beneficial to any company to accommodate employee benefits trends to please and welcome the new generations into the job realm.