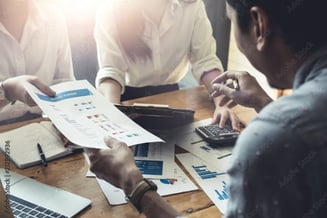 As retirement plan advisors, we're often asked about how to evaluate a financial advisor so here are five questions from our team to ask yourself and ensure your current advisor is adequate for your financial life. The beginning of the year is a perfect time to check in on your financial life to ensure you are on target with your financial goals and initiatives. A respectable advisor will have you feeling confident in how your financial life is progressing, and assessing your financial life goes together with evaluating your advisor.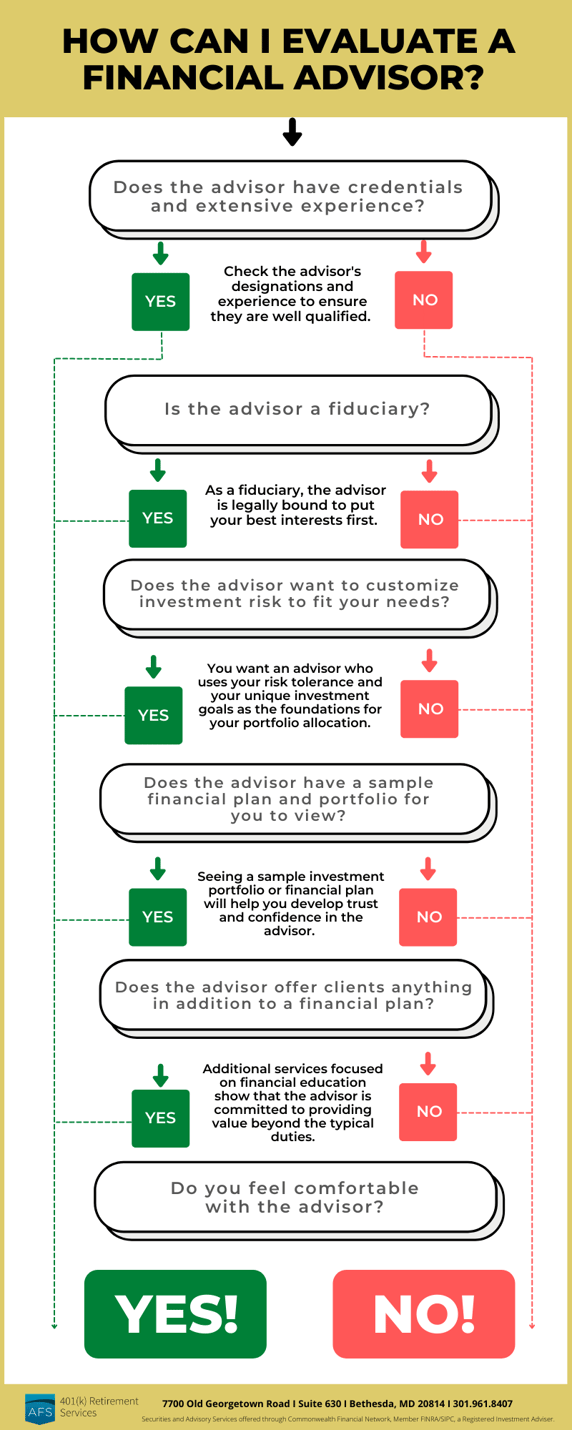 Is your advisor easy to reach?
If the communication between you and your advisor is inconsistent or one-way, that is a red flag. A decent advisor should offer proactive service and reasonable response times. Efficient and mindful communication is the foundation of any strong relationship, especially one that involves you and your money. Having an advisor means you should always have direct access to someone or a team that is able to promptly address any of your questions, concerns, or requests.
Do you understand how your advisor is being paid?
Knowing how your financial advisor is paid is an important step to the process, so if you're unsure about how that works– ask! Having a financial advisor may sound expensive, but if you don't have time to adequately manage your portfolio, optimize tax-efficient strategies, and obtain sufficient insurance, not having a financial advisor can be significantly more costly in the long run for your financial future and your loved ones. If your advisor's fee is not clear and you are confused by the fee structure, this is a red flag. Understanding what you are paying and how is of the utmost importance.
Have you outgrown your advisor?
A respectable advisor will continually enhance your client experience throughout your relationship. Your advisor should be educating you and be proactively addressing the complex changes that arise as your wealth grows. A great advisor will leverage the best tools and resources to help you plan for your financial future and help you prepare for any unexpected events and challenges along the way. You don't want to sell your financial life short by sticking with a one-dimensional advisor that only focuses on your investments, leaving you exposed to unnecessary risk due to a lack of insurance coverage, education planning for children and grandchildren, retirement income planning, and Social Security strategizing. Your advisor should be equipped to guide you through all stages of your financial life and wealth.
Does your advisor really know you?
A proactive advisor will know your pain points, your financial goals, what keeps you up at night, how much risk you can stomach, and what your dream retirement looks like. If your advisor doesn't take the time to get to know you, that advisor may not be someone you want to be in a long-term financial relationship with. Additionally, make sure your advisor is always acting in a fiduciary capacity, meaning that the advice you receive always involves putting your best interests first.
Can you articulate your advisor's value?
When you consider whether your advisor is worth it, the answer comes down to value. A good advisor works closely with you throughout the year to show you how your portfolio is being managed, the amount of risk your portfolio is exposed to, and how new opportunities are being evaluated and implemented. Your portfolio should be attentively rebalanced, prudently diversified according to your investment needs, goals, and risk profile, and evaluated for tax-efficient opportunities. While evaluating their value you may also look for certain designations to ensure they are well qualified. Credentials like Certified Financial Planner (CFP©), Chartered Retirement Planning Counselor(CRPC©), Chartered Life Underwriter (CLU©), or Chartered Financial Consultant (ChFC©) are all notable. If you aren't content with their credentials or answers, it may be time to look for a new advisor.
Overall, your advisor should bring you the utmost confidence in your financial future and that of your loved ones. If any of these questions are making you pause, consider exploring your options and doing your due diligence. Your future self will thank you.