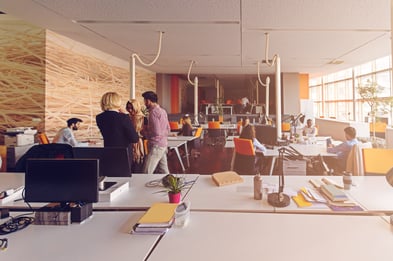 Companies and organizations across America are constantly struggling with two major workplace challenges: attracting top talent, and then, retaining that talent. This is especially true as we go through the Great Resignation when 4.2 million Americans quit their jobs back in October. When an employee thinks about your benefits program, are they content, confused, disappointed, or simply unaware?
Regardless of industry or service, every HR department and Corporate Executive wants to keep their best current and future employees satisfied. In order to push employees to their fullest potentials, leaders in an organization should demonstrate they are making positive strides to better their employees' lives, both inside and outside the workplace.
A strategy that has picked up in the last several years is developing incentive-based benefits programs. These are initiatives that, just as they sound, encourage or incentivize your employees to better understand and use your benefits offering. While not a great solution for every organization, these types of programs can deliver meaningful value to your employees.
Here are a few ideas to get started:
When starting or improving an incentive-based program, the first step is to identify your goal(s). What are you trying to achieve through the program? What is your motivating force? Does implementing a program align with your company's mission? No matter what your driving force may be, you want the program to coincide with "who you are" as an organization, thereby aligning with your company's culture and vision.
To achieve a valuable incentive program, start with answering the following four questions:

Does the program match the spirit and culture of your organization?

Is the program truly providing something employees need and want?

Do you have a method for surveying the program and gaining employee feedback?

Do the leaders believe in the program and will they champion it to all employees?
Your responses to these questions will help you get the ball rolling when it comes to starting or enhancing your program.
It is also important to determine how this program fits into your current benefits offering and what amount of budget your company is able to commit to the program. Many organizations struggle with determining or measuring the return on investment (ROI) of such programs – how do you put a measurable value on employee engagement, happiness, and loyalty?
Nonetheless, if this type of program fits into your corporate culture and can help highlight your strong benefits program, determining a reasonable budget and expectations is very important at the outset of this process. Also, keep in mind that as you roll out a new incentive program, you want to ensure you are monitoring the program's success, as it may be prudent at times to make adjustments. This can be done by looking at the number or percentage of employees involved in the program and how many of these employees are achieving the goals and desired outcomes of the program.
Overall, incentive-based benefit programs need to be more than a simple "morale booster" that employees perceive as a company's obligation. Your intentions for the program should be clearly communicated as a thoughtful and conscious endeavor and fully supported by the leaders of your organization to help employees understand and take full advantage of your benefits – while providing some additional "fun" and/or value to the employee population. An incentive-based program can have a dramatic impact on an employee's financial life and you want your employees to know that is an important motivator for the program's creation. In turn, powerful incentive programs drive employee productivity and corporate loyalty, making the successful execution of such programs incredibly valuable to all parties involved.